Welcome to my website dedicated to Electronic Music.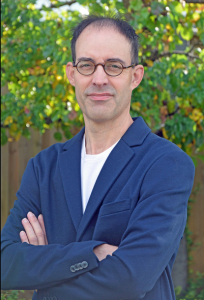 I was born in 1966 and now live in the south of the Netherlands. At the end of the '70, I came in touch with electronic music after I heard a tune of the album "Spiral" by Vangelis, which was used in a Dutch tv-program. Shortly after that Jarre's classic album, "Oxygene" followed, which my elder brother had bought.
One night he came home with a flyer from an electronic music fan club called KLEM, run by one Frits Couwenberg. I almost immediately became a KLEM member and learned lots of new artists and albums in the genre.
A couple of years later I actively started contributing reviews, interviews, and lots of others articles for this two-monthly fanzine. Through KLEM I came in contact with several musicians.
One of them was Ron Boots from Eindhoven, who was busy releasing some music on privately released cassettes. Soon I became intrigued by this friendly musician who had assembled quite some musical friends around him, such as Eric van der Heijden and Bas Broekhuis. With some others he started a sub-department of KLEM in Eindhoven: monthly meetings where we passionately listened, exchanged, and talked about electronic music. I enjoyed all these evenings very much and also began helping out at concerts of Ron Boots and friends wherever I could.
A couple of years later, Ron Boots started his own label Groove Unlimited, so through his fast-growing label and record stand at festivals and concerts I got to know even more musicians and fans of electronic music. This has continued until today.
After KLEM stopped in 2003 I was approached by Kees Aerts, co-owner of Groove Unlimited. He asked me if I was interested in starting a brand new printed international electronic music magazine with some trusted copy editors and translators, and becoming part of the editorial staff. Of course, I couldn't resist this great opportunity.
So in January 2004, the first issue of E-dition magazine (of which I invented the name) saw the light of day. Although we had a great start we also soon experienced that producing such a high-quality magazine demands a huge amount of work. Although we had a great time assembling and releasing this fantastic magazine every 2 months, the amount of work, the high cost and the declining number of subscribers in the second year made us decide to stop the magazine at the end of 2006. Although this was very unfortunate, it was a decision we had to take. The last issue of E-dition came out in February 2007.
After a necessary break from it all, I decided to start my own website Sonic Immersion in the fall of 2007, my personal outlet for electronic music reviews, articles, and lots more.
The creation of the internet is one of the greatest technological achievements of our times. Information and references are instantly available on just about any topic preserved on servers for posterity. While creating content can be free, sharing it via a hosting service brings about an inevitable cost and Sonic Immersion is no exception. Every week I receive a lot of music for which I juggle my time to listen and distill my experiences into short and to the point reviews to stimulate curiosity, promote the music and help listeners explore new aural experiences.
While the website design and content maintenance are secure the hosting costs are in need of a bit of help.
Please enjoy the content as before and if you can offer any support remember that a little help can go a long way.
Thank you
Bert Strolenberg
P.S. If you like to know more about my taste, you might wanna immerse yourself into "My Choices".
Despite proof tests of the fully overhauled and redesigned 2019-version of the Sonic Immersion website, I invite you kindly to report negative functionality issues or general feedback at
info@sonicimmersion.org